Building Chillers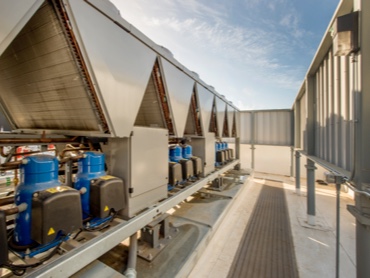 How do I know if My Chiller Needs Service?
If your building utilizes a chiller system for indoor temperature control, keeping every component functional and effective, is imperative, not only to the performance of the unit, but to the success of your production as well. Bringing in a professional to provide necessary repairs is key to ensuring the life expectancy of your equipment, but how do you know that it's time to schedule a maintenance appointment? Keep an eye out for these signs:
Lack of Air Flow
Leaking Fluid
Temperature is Too Low or Too High
Tower Fan Not Working
Tower Has Green Slime
Starter Trip or Blown Fuses
Thermostat Issues
Services We Provide for Building Chiller Systems
Commercial cooling systems are put under a lot of strain, and preventative maintenance is required in order to preserve the health and performance of your system. In addition, your facility's chiller is often the largest use of electricity in your building – so keeping the system running smoothly can save you a great deal of money as well. To help your chiller run at its optimal performance capacity, we provide our clients with the following services:
Spring Start Up
Winter Shut Down
Leak Detection
Chiller Programming
Service the Cooling Tower
Control Inspection and Calibration
Tube Cleaning
Anti-freeze Check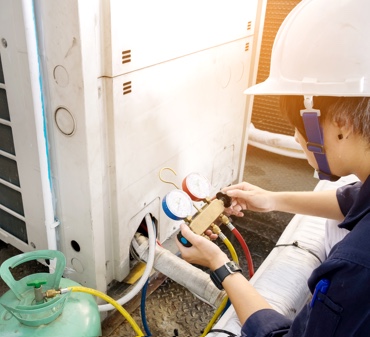 New Installs
When you need to cool a large space, a commercial chiller is an excellent option, particularly if your facility utilizes industrial equipment that generates a large amount of heat. Our technicians have a wide range of experience in designing and installing both air-cooled and mechanical-cooled chillers in apartment buildings, offices, industrial facilities and more! Have questions about your facility's chiller needs? Contact us, we would love to point you in the right direction.
Let's Get Started on Your Chiller Solution Today!
Whether your commercial chiller needs routine maintenance, or it's time for a new install, THC is your first choice for a reliable and time-effective solution. Our certified technicians specialize in these complex systems, and will be able to provide you a quality repair or install that fits your business' needs. Let's get started on your chiller solution! Schedule your maintenance or install appointment now.