Air Filtration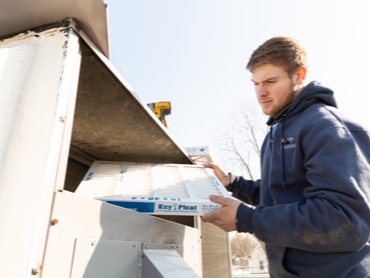 How can I Tell if My Commercial Air Filtration System Needs Service?
As with all of the other equipment present in your commercial or industrial facility, it's important not to overlook simple routine maintenance which can help you ensure the efficiency and longevity of your system. If it's been some time since you've serviced your system and you don't believe it's functioning at peak performance, we can perform an inspection to provide you with more information on its current state. It's also helpful to be aware of the warning signs that your air filtration system needs service:
Filters are Dirty or in Disrepair
You Experience Headaches & Sore Throats
You Experience Issues With Your Air Conditioner
High or Raising Energy Bills
Routine Maintenance for Air Filtration Systems
Commercial air filtration equipment is necessary to protect you and your facility's occupants from indoor air pollution. However, neglecting to give your equipment the proper care and maintenance it needs can negatively impact your system, causing the filter to be unable to trap and prevent harmful particles from entering your workplace. With quick and convenient routine maintenance appointments, we can take away the stress of maintaining your air purifying equipment. Technical Hot and Cold can help you with the following:
Filter Cleaning and Replacement
Inspect and Replace Gaskets
Duct Insulation
Inspect and Clean the Coils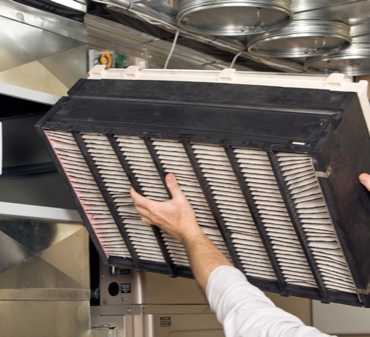 Install Air Filtration Equipment in Your Commercial Building
Installing new air filtration equipment, or upgrading the current system in your commercial facility, not only significantly improves the indoor air quality in your space, but it gives your entire HVAC system a performance upgrade by improving energy efficiency. Further, without one, you could have an indoor air pollution issue on your hands. Be confident that harmful contaminants are properly contained with an industrial air filtration system solution from THC! We specialize in premium-grade equipment from brands like Honeywell and Camfil, so you can breathe easy. Before we install a new system in your facility, we evaluate the workload that will be required of the system so that we can provide you with a properly sized system that will perform effectively.
Improve Your Industrial Air Filtration Today!
Being proactive about the indoor air quality of your facility is essential in promoting a healthy work environment. Regardless of your commercial industry, clean air is critical for your staff, guests, and basic business operations. Avoid the negative effects that can result from pollutants cycling through your indoor air – Let us help you experience the clean, fresh air in your workplace with an air filtration solution today! Contact us now to schedule your appointment.
Learn More About Our Additional Commercial Services