Thermostats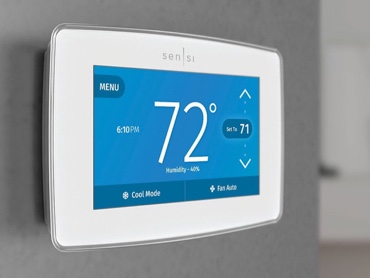 Common Thermostat Problems
At one point or another, we've all wrestled with our home's thermostat. There's fewer battles that are more stressful, and more detrimental to your home's comfort. Often, many seemingly more serious HVAC issues can be traced back to the thermostat. Knowing what symptoms indicate an issue with your home's thermostat can save you the time and money involved in a service appointment for your furnace or A/C. Common thermostat problems include:
No Power or Unresponsive
Battery Symbol Showing
Your Heater or A/C Won't Turn On
Room Temperature and Setting Don't Match
Your A/C or Heater Won't Turn Off
There are Differing Temperatures Throughout the Home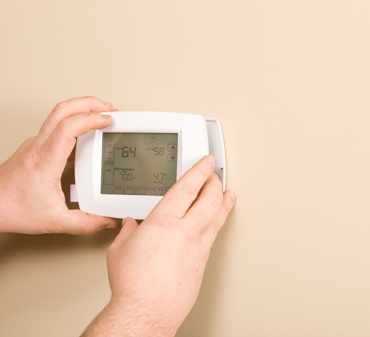 Thermostat Solutions and Services
Sometimes solving an issue with your thermostat can be as simple as turning it on or changing the batteries. In other cases, your thermostat could have been installed and/or programmed improperly. If you're experiencing frustrating thermostat issues, we can help! Our team can troubleshoot the problem and provide you with a programming or maintenance solution that will quickly and easily solve the problem. In addition, we'll leave you with detailed instructions on how to maintain your thermostat so that when issues arise again, you can save yourself time and money by being able to solve the problem yourself.
When is it time to Upgrade Your Thermostat?
While homeowners generally understand when their furnace or A/C need to be replaced, home thermostats will oftentimes go decades without an upgrade. How do you know that it's time to make a change? Since your thermostat is responsible for controlling and regulating HVAC functions, the thermostat should be upgraded at the same time as the system itself. An older thermostat will not be properly compatible with a furnace or A/C equipped with newer technology, which can be detrimental to the efficiency of the unit. Prevent emergency service calls by upgrading your thermostat today! We carry numerous options from analog to marker switch and WiFi thermostats, and our technicians can tell you what would work best in your home.
WiFi Thermostats
You've probably heard the buzz about WiFi thermostats at some point, and yes, they really are lifesavers. These smart devices come with numerous benefits that can save you money, offer you more convenience, and make your home more eco-conscious. They can reduce your energy costs due to their ability to automatically adjust your home's temperature (even if you're away), analyze your heating and cooling habits to suggest energy-saving opportunities, and let you create different zones in your home that can be independently controlled. On top of that, they're easy to program and have numerous customizable features like email and text alerts. If you're ready to take the jump and upgrade to a WiFi thermostat, talk to a THC technician today! We'd be happy to suggest one that meets your needs.
THC Can Help With All Your Thermostat Needs
If your thermostat is giving you grief, we can provide a repair or upgrade that will have your home's heating and cooling running smoothly and efficiently in no time! Whether you want to upgrade to a WiFi thermostat to streamline your living experience or need simple maintenance on your current installation - we're ready to assist. Schedule your appointment now or call us to discuss your options with a technician today.