Careers
Apply Now to Start Your Career in HVAC!
As Southeast Michigan's leader in mechanical contracting services for both commercial and residential, we go beyond traditional heating and cooling solutions by offering complete home and building maintenance, installation, parts, and testing services that provide added value to our clients. We're always looking for HVAC technicians that share our vision of professional, cutting-edge service that exceeds our clients' expectations. Our ideal candidates are established or apprentice HVAC technicians that have service experience in the field, and that demonstrate attention to detail, excellent problem solving, communication, and time management skills. Additionally, a friendly attitude and the desire to deliver an excellent service experience at all times are required. If this sounds like a good fit for you, apply now! We look forward to meeting you.
HVAC Service Technician

Westland, MI

Duties and responsibilites include, but are not limited to, the following:

Install, maintain and repair heating, ventilation, and cooling units for both commercial and residential customers. Diagnose and repair of electronic, mechanical and electrical components of these systems.
Travel to job sites in service area, and work with dispatch to ensure schedule is maintained and delays are properly communicated to customer.
Be available to work nights or weekends, on a rotating basis, to service emergency needs of our customers.
Maintain good working order of company vehicle including refueling as necessary, reporting any mechanical issues, and filling out and submitting monthly vehicle inspection form. Vehicles should be washed on a regular basis.
Maintain proper stock, parts, tools, and safety equipment in the vehicle.
Maintain and submit monthly mileage log forms.
Understand company pricing and generate appropriate customer invoice at job site. Electronically process credit card payments. Obtain customer signature at completion of job. Obtain correct customer information including email address.
Document all installed equipment upon arrival: make, model, serial number, type of fuel, necessary test measurements, and pictures as necessary.
Diagnose diverse service issues, obtain any replacement parts, calibrate system to manufacturer's recommendations, and explain fully to customer what the issue is and what is need to correct.
Participate in company provided training opportunities on latest industry technologies.
Identify and report to owner potential opportunities for additional business (newer system, service contracts, and additional services).

Skills & Other Requirements:

Five to seven years experience in installation, maintenance, and troubleshooting and correcting diverse HVAC service issues.
Good analytical skills and attention to detail with ability to read and interpret blueprints, plans, and manuals.
Excellent customer service skills with desire to exceed customer expectations.
Ability to work independently in a timely manner, making sure job is done correctly the first time.
Well groomed, neat appearance
Valid driver's license and clean driving record
Valid social security number
Must be able to pass drug test(s) as required by company
Lift up to 50 pounds; be able to push, pull, carry or maneuver heavier items (with additional manpower or appropriate devices); carry ladders; work from heights, work in small crawl spaces.
Observe all company procedures and safety rules
Maintain accurate time records and send to payroll when required
Work as part of our team to ensure customer satisfaction

Office Assistant/Parts Counter/Parts Sales

Westland, MI

Summary

Technical Hot and Cold in Westland has an opening for a full-time office assistant. We are a well-established company proudly providing our customers with quality HVAC services and heating and cooling parts online. We are looking for a hard-working individual that possesses strong people skills, a great work ethic, and a willingness to learn new skills. If you feel you are ready to be a part of our team, please apply with your resume by clicking the button below!

Duties and responsibilites include, but are not limited to, the following:

Taking customer calls for parts orders.
Invoicing new parts orders.
Placing parts orders with suppliers.
Process UPS, FedEx and outgoing freight.
Taking product photos and data entry for new product additions to the web.
Stock parts room and inventory checks.
Drive company vehicle to pick up and deliver parts and equipment as needed.

Skills & Other Requirements:

Clean driving record
Pass a drug-screening
High School Diploma or Equivalent
Experience in Parts Sales/Inquiries
HVAC-related knowledge
Ability to Multitask
Well Organized
Great phone and people skills
Basic math skills, good verbal and written skills
Punctuality and reliable attendance
Ability to lift, move and carry objects that are in excess of 50 lbs.
Willingness to learn new skills
Ability to use a computer and Microsoft Office programs
Mechanical ability and great problems solving skills a plus
Forklift experience a plus

Benefits

401K Plan
2 Paid weeks of vacation and paid holidays after 1 year
Full Paid health care, dental, optical, and life

"I really enjoy coming to work every day at THC. I am continuously learning how to be great in this field through on the job training with the other technicians."
- Zach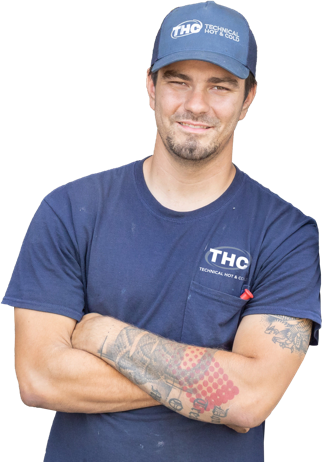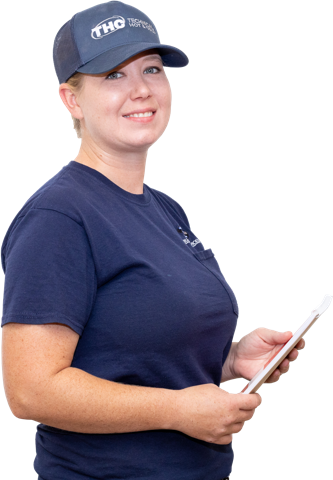 "Working at Technical Hot & Cold is like working for family! The experience I've gained with this incredible company has helped shape me to into an industry professional that knows how to get the job done the TECHNICAL way!"
- Ryann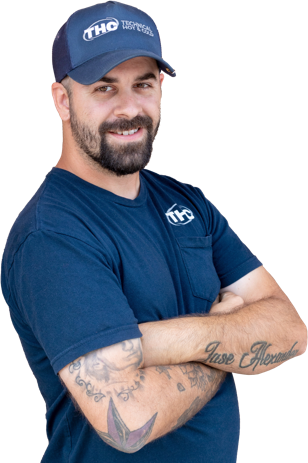 "Everyone at THC is friendly and helpful. The team works with you through jobs to grow your knowledge, and help you learn something new everyday."
- Charlie
Make Your Mark With A
Career In HVAC
Our team is dedicated to delivering an exceptional customer experience no matter what. At Technical Hot and Cold we pride ourselves on being more than just your standard service company. Our team is passionate about going above and beyond – from customer service and problem solving, to modern in-field technology and continued education – Because it's TECHNICAL! Does this sound like a good fit for you? Join our team!
Apply Now
Think you're a good fit for one of our open positions? Apply to join the Technical Hot and Cold team by completing the form below.