Keep Cool THis SUmmer!
Your A/C System Tune Up Includes:
Check condensation pump.
Check/adjust/thermostat control and electrical connections.
Check operation of complete system during a normal cycle to identify any pre-existing conditions.
Check condition of air filter.
Inspect condition of blower assembly.
Inspect condition of blower belt. Adjust tension if necessary.
Inspect condition of all motors and bearings.
Check and record voltage and amperage on condenser circuit.
Check and record temperature drop across evaporator.
Check for proper condensate drainage from evaporator.
Check condition of line set and insulation around condenser and evaporator connections.
Check system through complete cycle to test for proper operation after completion of tune-up.
Test capacitors.
Check fan blade & blower.
Schedule Your A/C System Check
Kill Viruses, Bacteria &
 Fungi In Your Home

Carrier Performance
Germicidal UV Light
Installed in your supply or return ducts
Lower Your Energy Costs
With A Programmable Thermostat

Sensi WiFi
Thermostat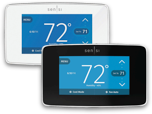 Sensi Touchscreen
WiFi Thermostat
Talk to a Tech to see what thermostat is right for you! (734) 326-3900