Process Chillers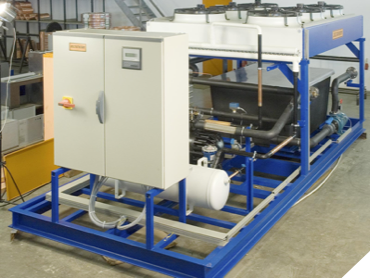 Signs Your Process Chiller Needs Service
If you're utilizing a water or air-cooled process chiller, you already know how imperative it is that the cooling fluid remains uncontaminated and at a precise and constant temperature to avoid machine shut down. Since the proper function of your process chiller is crucial in ensuring efficient, productive production processes, you want to be proactive in servicing your equipment in order to keep your systems up and running, and to avoid any larger issues down the road. These are a few signs your process chiller needs service or repair:
Broken or Not Functioning Properly
Machine Showing Alarm Codes
Equipment is Overheating
Spindle, Bit, or Blade Damage
Imprecise Cuts
Plastic Mold Cavities Don't Fill
Plastic Sticks to Mold or is Deformed
Overheating of Electronics
Loud Noises
Iced-Over Coils
Chiller Equipment We Service & Repair
At Technical Hot and Cold, we specialize in servicing and repairing both standard and highly-custom chiller units; fixing and maintaining central and compact process chillers, as well as cabinet coolers and food equipment. Our experience spans a variety of industries from manufacturing to hospitality, and includes a vast range of brands including oil coolers from Kanto-Seiki, Habor, KouwaKougyo, Kwangrim, Daikin, and Turmoil, as well as glycol and water chillers from Schimpke, BKW, Ritter & Bader, Kanto-Seiki, Deltatherm, Lahntechnik, and Eros – just to name a few! We're equipped to service and repair commercial HVAC equipment and process chillers locally and across the United States at our in-house testing and repair facility, or we can come to you to service your process chiller on-site! We serve:
Automotive Plants (chillers and cabinet coolers)
Manufacturing/Machine Shops (chillers and cabinet coolers)
Defense/Aerospace (chillers and cabinet coolers)
Printing Shops (chillers - cooling printing presses)
Server Rooms (cabinet coolers)
Restaurants (food equipment chillers)
And more!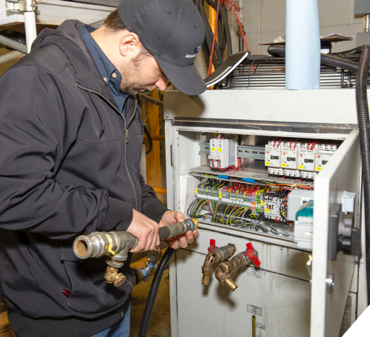 We Test, Diagnose & Repair Chillers In-House & On-Site
Our in-house testing and equipment repair facility makes it easy to get your chiller back up and running, with the confidence that it has been repaired properly so you can keep production on track. Over the years we've honed our specialization in chiller and industrial equipment repair so that our customers can count on us to get the job done – here in the U.S. as well as internationally! All you have to do is send us your unit, or if you're local we will come pick it up! Once it arrives, our expert techs will clean, test, diagnose, and quote it for repair by utilizing a simulated work environment to replicate the problem. Once the repair is complete and comprehensively tested, your unit is returned to you with warranty coverage for 30 days on labor and 1 year on parts serviced or installed by Technical Hot and Cold. Learn more about our in-house repair facility here.
Replacement Process Chillers from THC
In the event your process chiller is beyond repair, we can still help you get back up and running by sourcing a new unit that is suited to your needs. Our long-time experience in the industry has earned us beneficial partnerships with top manufacturers, so whether you need a standard system or custom solution, we can help! We understand the critical role your commercial HVAC equipment plays in your business and we can use our industry expertise to ensure you're set up for success. Give us a call today to talk about your options!
Tips to Maintain the Performance of Your Process Chiller
While quality service for your chiller is important and necessary to its performance and function, especially if it is experiencing issues, there are also a few things you can do help maintain the unit and ensure its longevity:
Address Alarm Codes Immediately & Seek Appropriate Repairs
Avoid Resetting Chiller Multiple Times in Short Periods – this can damage the compressor
Check Fluid Levels Daily
Make Sure Fluid is Clean
Check for Leaks in Piping
Check Fluid Strainers Daily
Check Air Filters Regularly
Clean Condenser Coil & Keep Free of Debris