In-House Testing & Repair
In-house Testing and Repair Facility
Professional Consultation and System Design for Commercial Chillers
If you are in the market for an industrial-grade chiller but aren't finding a model that meets your specific needs, we'd be happy to custom design a solution that fits your specifications. Our technicians can survey your facility, consult with you on what you're looking for, and then build a unit that works for your purposes. Begin your custom chiller build today by scheduling your consultation with one of our technicians.

Ship us Your Chiller and We'll Repair it Here!
If you are experiencing issues with your industrial chiller, we provide in-house testing and repair services so you don't even have to schedule a maintenance appointment at your location. Just ship us the unit and we'll get it back to optimal performance standards right here in our warehouse facility! Plus, before we send it back to you, we'll run a comprehensive series of tests and checks to make sure the unit operates for your needs.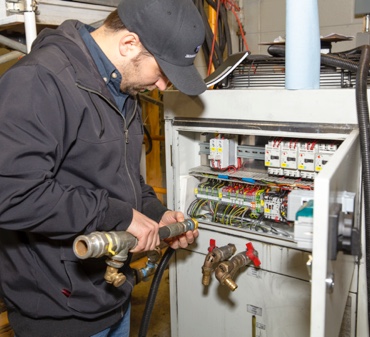 Industries We Serve
THC offers chiller solutions for a variety of industries, including the following:
Healthcare Facilities
Office Buildings
Automotive Plants
Manufacturing Facilities
Retail Stores
Churches
Let's Get Started on Your Chiller Design or Repair Solution
Whether you need a commercial or industrial-grade chiller designed, installed, tested or repaired, THC can handle all the details from start to finish. Our mission is to provide you with solutions that work for your individual needs, so we'll worth closely with you to ensure the end product meets your specifications. We pride ourselves on going above and beyond your expectations, and our ability to accomplish every project quickly and efficiently – no matter how large or small. Ready to get started on your chiller solution? Contact us! We're ready to meet your needs.